Having to balance a hectic schedule for many months out of the year, I've learned the importance of slowing down to practice some self-love and to pamper myself. It's so important to reset your body and mind and to use beauty products that make you feel your absolute best!
With that said, I'm so excited to share my current beauty favorites with all of you! I am a firm believer in the motto "look good, feel good," so it comes as no surprise that I love taking care of my skin and hair. Fortunately enough, I've found a few amazing products that work miracles and help me feel my best. As a beauty product junkie I love trying out new products so stayed tuned as I add on and share my favorites list with all of you! For now, here's a roundup of my current Top 7 Favorites…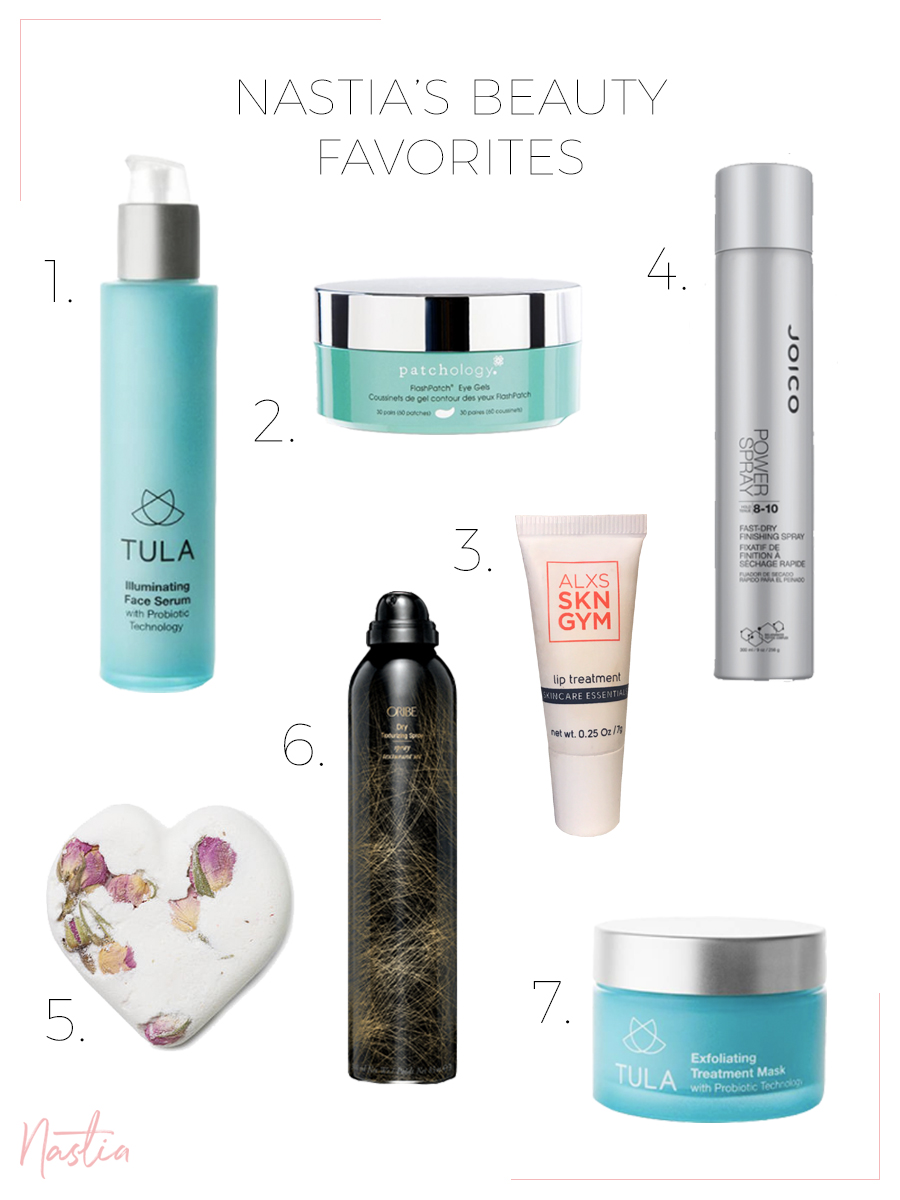 Tula Illuminating Serum– I love putting this serum on right after I wash my face. It's such a wonder worker on my skin and deeply moisturizes with it's light-weight consistency. It leaves my skin feeling nourished, balanced, and bright!
Eye Revive FlashPatch– Waking up after a sleepless night is definitely not the cutest look, but after 5 minutes of using these moisturizing eye patches my tired eyes actually look refreshed and awake. These feature Caffeine and Hydrolyzed Collagen, making them perfect for a night I didn't get enough sleep or after a long day of work.
Skn Gym Lip Treatment– As I've mentioned before, Alexis is my girl (and my esthetician). I trust her with my skin 100% and this lip treatment is divine. It leaves my lips perfectly plump, moisturized, and soft.
Joico's Power Spray– The perfect combo spray for hold, flexibility, and shine! This finishing spray is my all-time favorite because it holds everything for up to 72 hours, while still leaving my hair bouncy and flexible (nothing worse than stiff hair, am I right!?). It also acts as a heat protectant so I can style without guilt!
Tisty Tosty Bath Bombs from LUSH– When in need for some serious rest and relaxation, I reach for my Lush Bath Bomb and, consequently, a tub full of rosebuds. Can you think of a better way to unwind?
Oribe Dry Texturizing Spray– As you've probably heard, washing your hair every day isn't great for your hair and scalp health. When my hair needs a little dry shampoo love, I use this spray. Not only does it absorb oil, but it also adds volume and texture that's perfect for styling, which for me means curls on curls for days!
Tula Probiotic Exfoliating Treatment– When my skin is feeling a bit congested, I use this treatment to deeply purify and rejuvenate from the inside out. This treatment gently exfoliates and peels away impurities to leave skin nourished, even, and balanced.
So, what are some of your beauty favorites? Share in the comments below!
Xoxo,
Nastia