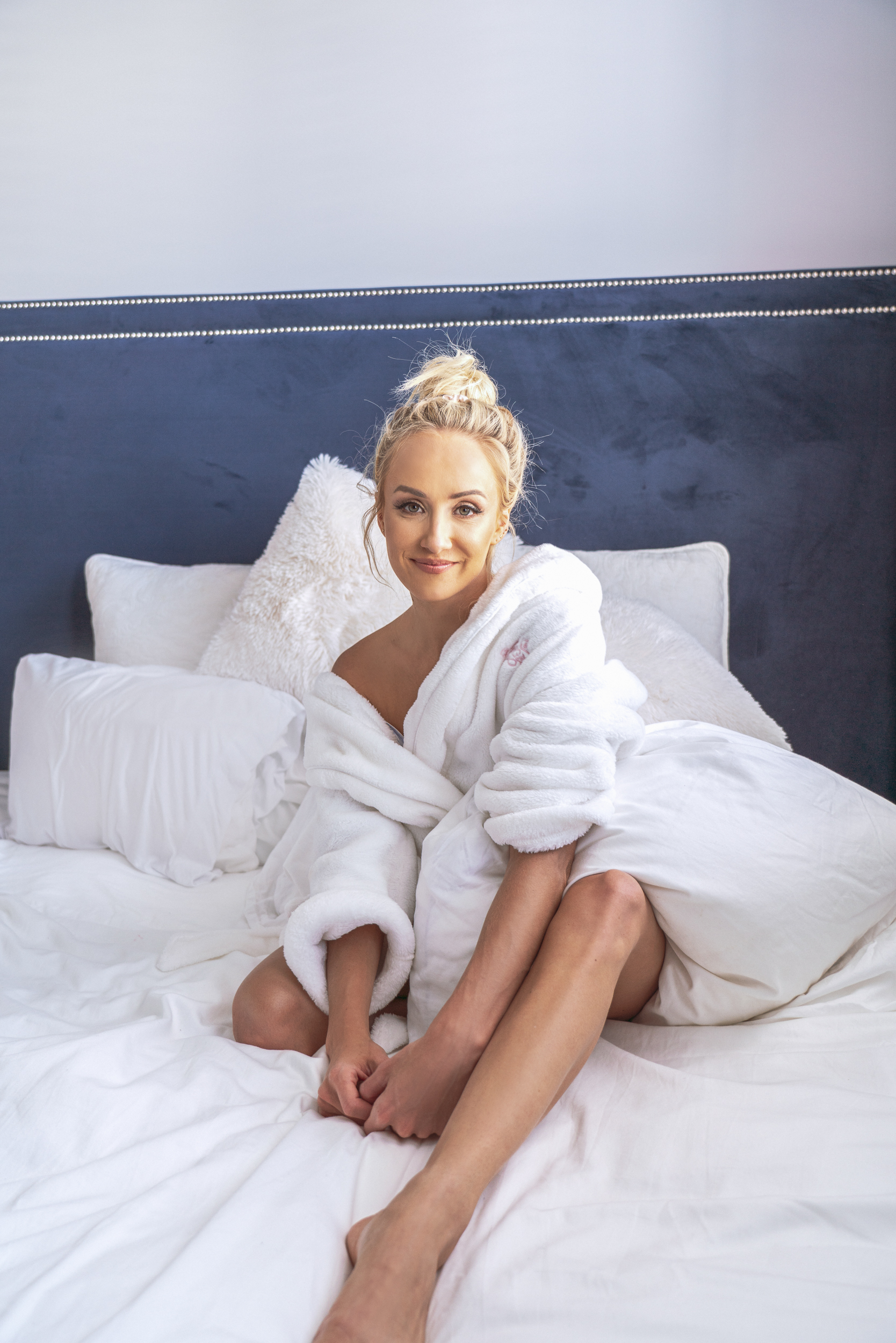 Getting unready every evening is equally as important as getting ready each morning. I'm on the go all day, so when I get in, I want to give my body a moment to reset–we earned it! So at the end of the day, I like to focus on self care, my nighttime routine and turning off all notifications for the night. While I'm taking my time to do my full skincare routine, I look at it as an opportunity to unwind and spend some quality time with myself all while taking care of my skin.
I've always had the mindset that skincare is self care, put good on and you'll feel good! This definitely stems from my mom 🙂 Keep scrolling to get unready with me and have a look at my current skincare routine!
Here's what my routine is looking like right now…
Step #1 Cleansing: Lately I've been using Tata Harper's Clarifying Cleanser, which leaves no trace of dirt on your skin! It's gentle and does not strip your skin of its natural oils. Sometimes I find that cleansers can be overly drying and that really irritates my skin.
Step #2 Toning: I'm very loyal to SK-II's Treatment Essence. I notice such a difference in my skin when I'm using this product. It leaves it feeling and looking softer, smoother and brighter. I'll use it right after cleansing before applying serums, which preps my skin so those can absorb better.
Step #3 Eye Cream: I recently found OleHenriksen's Banana Bright Eye Creme which instantly brightens my under eye, it's magic. I use this morning and night to proactively combat dark circles.
Step #4 Serums: Right now I'm loving Dior's Capture Youth Redness Soother which helps reduce redness and calm my skin. It's enriched with antioxidant-boosting iris extract so it's great for sensitive skin! I love following that up with Volition's Strawberry-C Brightening Serum that's packed with vitamin C to boost radiance and hydration.
Step #5 Moisturizer: I end my nighttime skincare routine with my new Celery Green Cream. It's a lightweight gel so it's plumping, insanely cooling, soothing and hydrating. It really locks in all the previous skincare steps and provides extra vitamin A & C for anti-inflammatory benefits. Plus, celery is comprised of 95% water so it is abundant in vitamin E, allowing for the ultimate surge of moisture. This is really the center of my skincare regimen. I apply a nickel-sized amount and work it into my face almost in a massage-like motion. I also apply it to my neck, décolletage and back of my hands.
What are some products that you're loving right now? Make sure to check out the new Celery Green Cream, it's DEFINITELY not one to miss.
SHOP THE POST

Nastia