It's time to break out the stockings, roll out gingerbread, and turn your home into the cheeriest/coziest place to be for the Holidays! Decorating for this time of year can seem like a lot of extra work, and if you don't have guests coming through your apartment or home, you sometimes wonder if the effort is even worth it. I'm here to tell you that the good vibes that are generated make it well worth it! No matter what your decor style is—if your philosophy is to cover every corner with glitter or if it's to maybe hang a wreath on your front door—I found the best decor for you!
The easiest decorating tip in the book is to use greenery—and a lot of it. Garlands around doorways, over fireplaces, and draped down staircases add a little something to your space, plus if it's fresh pine or other botanicals it will smell amazing! Same goes with wreaths; they are easy to hang and really make a space festive! Another trick is to string little lights through the greenery like these starlight LED lights that just add another element of coziness. Or, another option is to use white lights alone. I like these because the chord is white and blends in with the woodwork around my house!
The kitchen might be my favorite room to decorate for the holidays! I think that's because it's usually where everyone gathers for treats and to talk, so I like to make the space festive. First thing's first, if you haven't ever bought Williams Sonoma Peppermint Bark, buy some now to have on display in your kitchen. Warning: it won't last long because it's that addicting. I also like to have other cookies and gingerbread houses out. If I don't have the time to decorate them, there are cute options you can buy pre-made! Another thing I love is to have a stocked bar cart and add some lights around it! It's always an added bonus to any Christmas party.
A quick trick that actually can make your bedroom or living space look winter-ready is to add a fur throw and fur pillows! Nothing says "baby, it's cold outside" quite like a cuddly blanket.
If you don't know where to start,  CB2 has some great options for decorating this year! Target, of course, has amazing options as well! When in doubt about decorating for the holidays, you can never go wrong with lighting a few extra candles around the house, turning on some holiday music, and inviting your loved ones over to laugh—because that's what the season is all about!
SHOP THE POST

XOXO,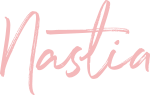 Nastia