In partnership with my friends at Nike Sportswear.
Over my career, one of the most common themes I'm asked about is how to overcome mental blocks. More specifically, I'm asked about how to just do it—whether that's a new skill, an intimidating skill, or an old skill that's tethered to a not-so-pleasant memory. The conversations that I have surrounding these topics are so easily translated into life after sports, that I thought I'd share them with you here.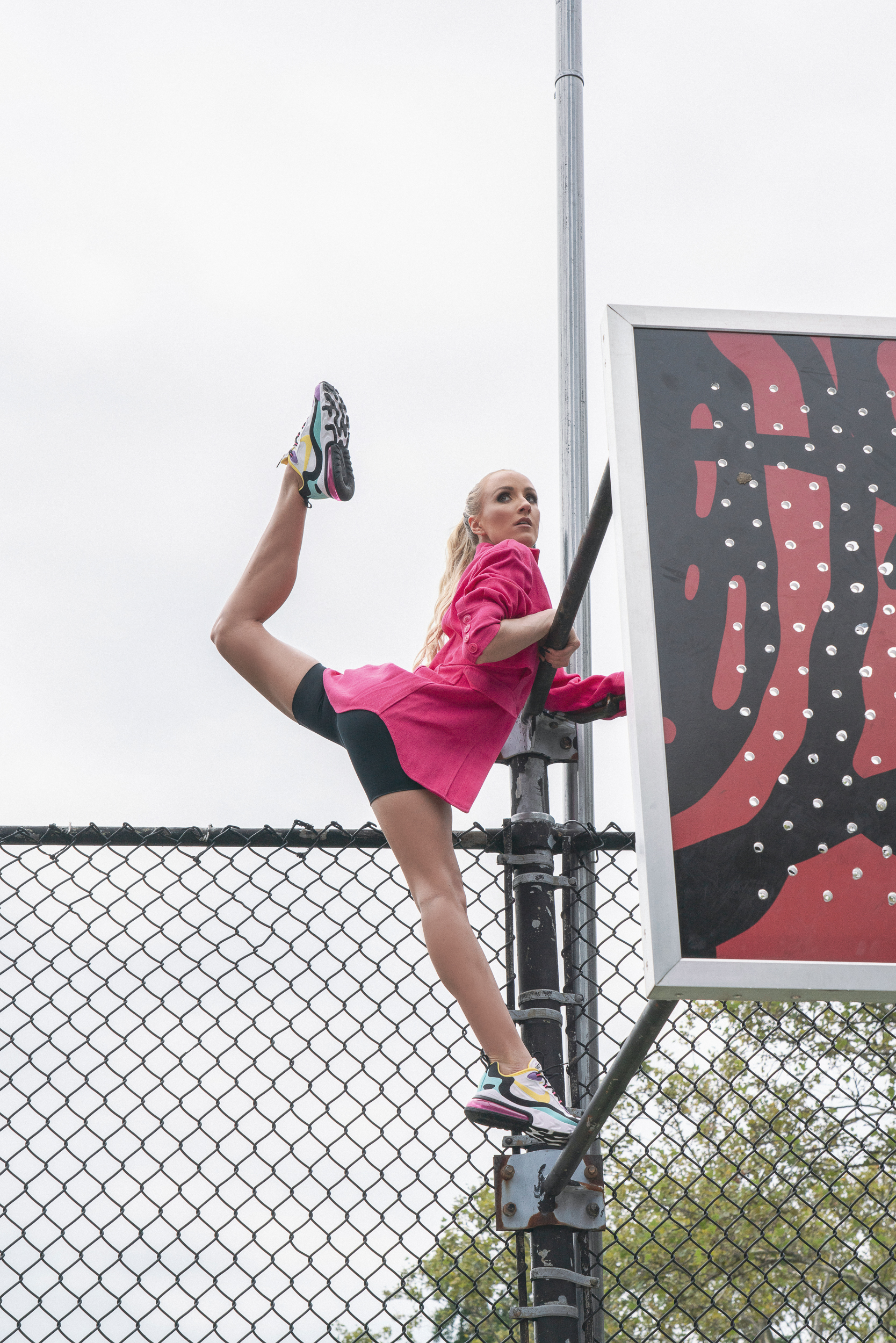 In sports, a mental block is a psychological aspect that prevents an athlete from performing a specific skill. As an entrepreneur, though, I've faced many of the same mental blocks I experienced during my training days—whether that manifested as leaving a job and moving on to something else (something that was more in my control), or getting up onto stage and speaking in front of thousands of people about my experience as an Olympic gymnast and beyond.
I've honed three important tools that I consistently apply across all areas of my life. These are the same tools that I used when faced with learning a new skill that was extremely perilous, ultimately allowing me to move past any arbitrary blocks and excel. The important thing to note here is that you do have the skills you need to succeed.
1. Visualization
Do not underestimate the power of visualization. If you envision yourself doing the task/skill/thing that is causing your mental block, you're statistically more likely to overcome the block. The more detailed the visualization, the better. For me, I was able to hold the image of myself doing an entire routine in my head for the duration of the routine, visualizing every move, every piece of choreography, and every accompanying breath. Oprah and Bill Gates are big fans of this technique, and clearly for good reason. Oprah has said, "If you can see it and believe it, it is a lot easier to achieve it." In a business setting, you may be faced with an extremely tight deadline for a project. You have the skills and resources to complete the task, but timing and other external pressures might be holding you back from getting it done or even starting. Visualize yourself completing the project and the steps needed to do so, down to handing/sending it in at the very end.
2. The Count-Down
Yes, literally count it down. If you're practicing a presentation, count yourself down and start speaking. When it comes to actually presenting, recite the same countdown (5-4-3-2-1), and you will feel the same sense of ease as you did when you were practicing. This also applies to long-term plays. Thinking of leaving your job to start something of your own? Give yourself a countdown and draw up a game plan for each month as you inch closer to your deadline. For example, your 5-month countdown could look a little something like this:
1. Month 1: research the competitive landscape and find your niche.
2. Month 2: draft and finalize your business plan.
3. Month 3: complete any administrative tasks (i.e., forming an LLC, hiring any employees, ironing out where you will work from).
4. Month 4: provide notice to your current employer.
5. Month 5: JUST DO IT!
3. Utilize Mantras
Change your internal narrative to "I can do this" from "I'm not sure if I can do this." Before every single routine at the Olympics, I recited this to myself: "Keep a positive thought, because a positive thought cannot be denied." When you shift the conversation to positive, you're instantly uplifted. It's baffling how much negative energy can hold you down, and how simple it is to release yourself from its grasp.
What are some ways you were able to overcome mental blocks? I'd love to discuss them in the comments below!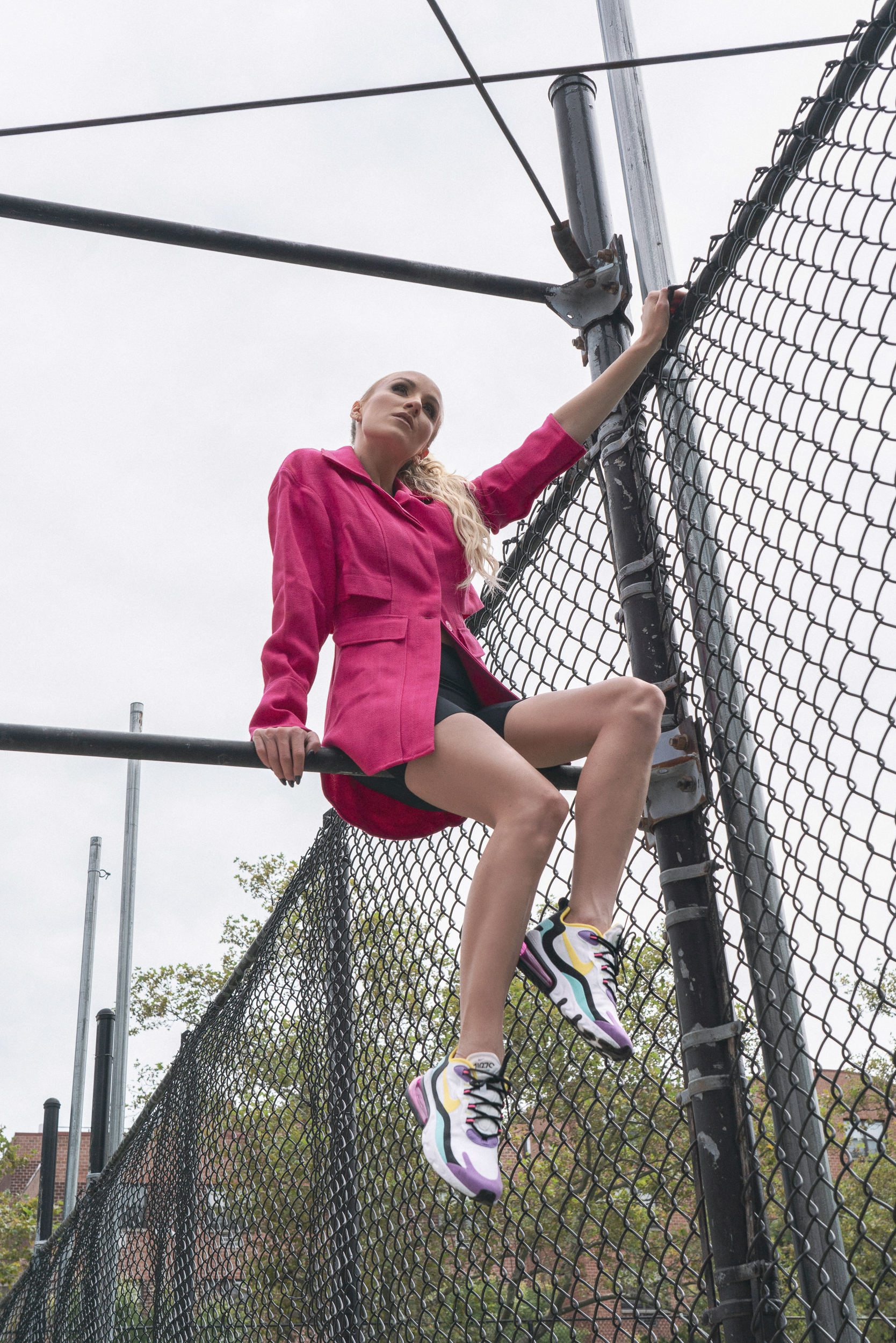 SHOP THE POST
Shop Nike.com For The Nike React 270's Women's Geometric Colorway
Nastia